About Libon
The town of Libon, in the Province of Albay, is situated in the Bicol Peninsula on the Island of Luzon. It is bounded on the north by the Municipality of Polangui, on the South by Burias Pass, On the East by the Municipalities of Polangui and Oas and on the West by the Municipality of Bato in the Province of Camarines Sur.

Libon is basically an agricultural town. It has approximately 24,000 hectares with 2 thirds devoted to prime agricultural use. While Libon has no pretensions to greatness, it has reared well known sons & daughters since the Spanish times. During the Spanish era, Libon produced a crop of catholic priests foremost among whom was Fr. Juan Calleja. This enterprising priest was the founder of the first catholic school in the province of Albay, later to become the St. Agnes Academy.

Another educator was the late Nicanor Maronilla Sr., founder of the Far Eastern College, the forerunner of the Far Easter University. Immediately before and after the first world war, 3 bar top notchers were from Libon who later held responsible public office. They were Ramon C. Fernandez, former Associate Justice of the Supreme Court, Dominador Aytona, former Senator and Irene Cortez, Associate Justice of the Supreme Court. Libon has produced dedicated public servants in almost every field and branch of the Phllippine government as well as in the private sector.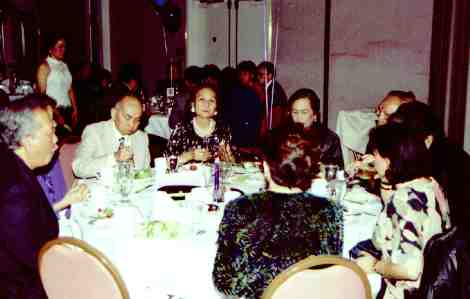 A distinguised group in the company of Libongueno Jess Sario,Past President and PRO
As Libon approaches the next millennium, the Libonguenos once again is full of hope, anxiety and expectation. The Libonguenos' deep faith in God and their Patron and Protector, Senior Santiago, will always remind him of the "hometown, no matter where he may be. But, to remember is never to forget the suffering , the anguish and privation of the marginalized". The members of the Libon, USA will surely not be wanting in this regard. Its members are conscious and unshaken on their belief that -"Yesterday is already a dream and tomorrow is only a vision; but today, well lived, makes every 'yesterday' a dream of happiness and every tomorrow a vision of hope."

The early 1970's saw the influx of Libonguenos coming to the United States for permanent residency. Happy to see each other in this foreign land, they decided to get-together more often to reminisce old times and to celebrate special occasions such as the Libon Town Fiesta preceded by the weekly novenas to their beloved patron saint, St. James the Greater, devotedly known as "Senior Santiago".


About the Organization
Established in the mid-1970's with its set of officers, the association have participated and was represented in the early Penafrancia celebrations unofficially. It was not until 1994 with the guidance of the late Fr. Antonio R. Rey, and Constitution and By-Laws that this organization was officially recognized. It affiliated with the Devotees of Our Lady of Penafrancia on that same year.