Mag-iribahan Kita

A newsletter of Bicolanos for all to know of the Bicol sub-culture








(l-r)Governor Jess Pimentel of C. Norte, Romy Salvador and Mayor of Daet, C. Norte, Elmer Panotes
Bay Area Camarines Norte Association

Sometime in 1987, a group of Camarines Nortens', mostly from Daet Camarines Norte, Philippines, while attending a Penafrancia gathering realized the need to have a formal representation to the Bicol association managing the annual affair. A set of officers were then informally selected with Luis Cardozo as the first president. The Bay Area Camarines Association (BACNA) was then born. Meetings were randomly held when and if there was a quorum at a certain party or during the annual gathering at the San Leandro park in San Leandro, California. Membership was very few and active only during the Penafrancia celebration and St. John the Baptist (Daet's patron saint) fiesta. Minnie Calnea has been the perennial gracious hostess in her ranch in Everta, near Sacramento, California. Even in its tender beginnings, BACNA has already noted the meaningful existence beyond what is purely private or personal by undertaking some projects to benefit their kababayans in Camarines Norte. Medical supplies and library materials were sent to the province.

In 1993, Cesar Echano became the second president of the association. Together with the newly elected officers, Echano worked out the offical registration of the association in the State of California as a non-profit organization. Echano' administration also paved the way for the creation and adoption of the constitution and by-laws of BACNA.

A major accomplishment during Echano's reign was the creation of the newsletter "Mag-iribahan Kita" (Let's Join Together) which by its very name became the beacon and the challenge to everybody. The birth of "Mag-iribahan Kita" was really precipitated by the threat of Echano to resign due to tepid participation of the members. Manny Alarcon, feeling guilty for the same reason and embarrassed due to inaction, decided to rally the members through the newsletter for action and team effort. Straight from one of the meetings one afternoon, he drafted the very first 4-page issue of "Mag-iribahan Kita" and circulated photo-copies to the general membership. "Mag-iribahan Kita" editorial staff was later joined by Jay de la Cruz, employing too the resources of his own business, Crane Enterprises, and Andy Salvador, a retired lawyer. These gentlemen together with Manny Alarcon provided for the quarterly rotation of editorial responsibility. Other writers from other organizations enrich the contents of the newsletter.

December 18, 1994 marked the election of Romy Salvador to the presidency. Having been the successful helmsman of his business, Romy took charge immediately and redirected the course of BACNA. Multiple projects have been embraced to the delight of majority. Calls for help due to natural calamity from our kababayans were met with cash or in kinds. Dispatch of food to typhoon victims was expeditiously arranged. Clothing and toys were sent home to the needy. Books were shipped to rural areas. Medical supplies, pumpwells, etc. were made available to our kababayans. Fund-raising is always on-going to implement projects.

In 1997, BACNA hosted the annual fiesta honoring Our Lady Virgin of Penafrancia.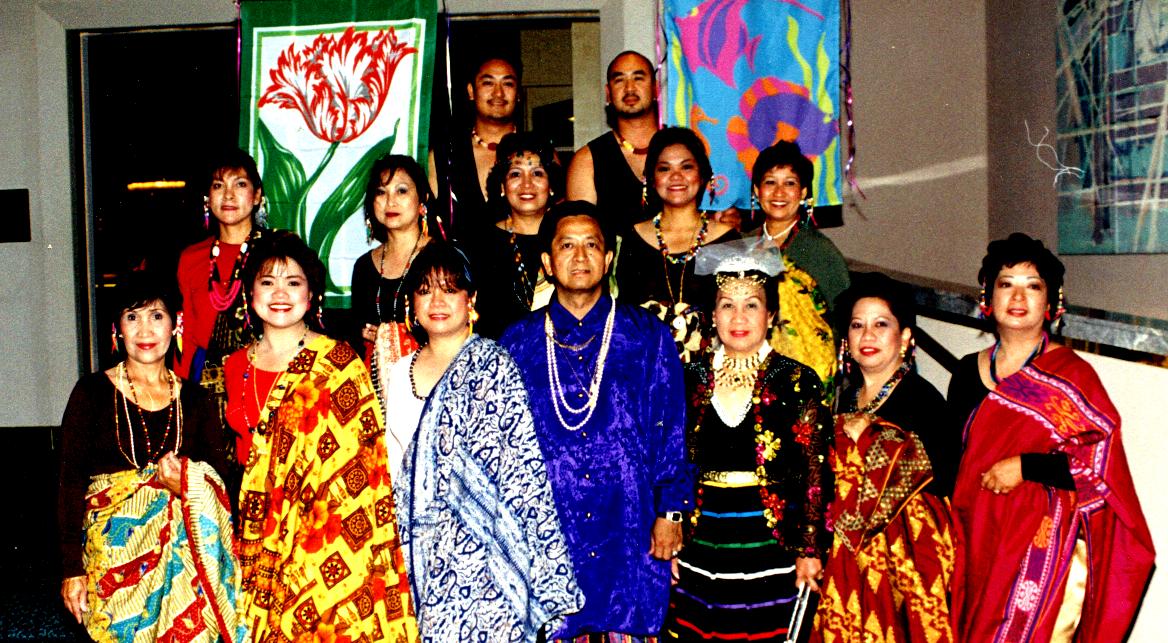 Romy Salvador and his court, during the Penafrancia dinner/ball,
performed a muslim dance


BACNA OFFICERS 1997-1998


Romy Salvador - President
Manny Alarcon - Vice President
Angel Fermo - Vice President
Fechie Alarcon - Vice President
Olette Morales - Secretary
Sylvia Salvador - Asst. Secretary
Mailou Guinto - Treasurer
Rose Echano - Asst. Treasurer
Maite Guinto-Duncan - Auditor
Erna Auro - Business Manager
Jack Alarcon - Business Manager
Jay de la Cruz - Press Relations
Delfin Mirabel - Peace Officer
Tony Fermo - Peace Officer
Manny Jacobo - Peace Officer