Community News Round-Up
Camarines Norte surgical mission returns triumphant!
BACNA and surgical team will return January 2001.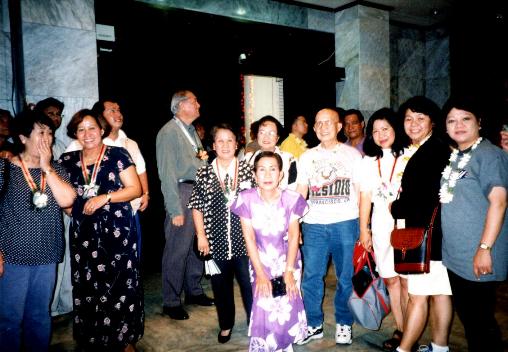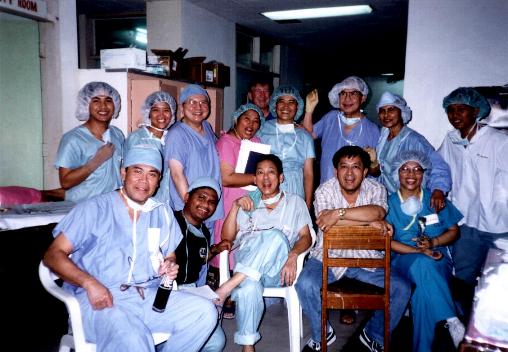 Left Photo: 6th from left is the governor of C. Norte, Jesse Pimentel. In the forefront are members of BACNA who voluteered for the mission.
Right Photo: Members of the surgical team headed by Dr. Tony Abiog, 7th from the left, standing, are taking a respite from their work.


BACNAns rededicated themselves to help again the indigents from their province by unanimously approving a new mission to Camarines Norte in January 2001. Having heard from Dr. Tony Abiog and after listening to observations from volunteers Erna Auro, Fechie and Marv Alarcon, Doris Palado and Becky Chavez, newly elected president Manny Alarcon restarted the drive to fulfill mission 2001. Romy Salvador, past president of BACNA describes the recent project, the Surgical Mission 2000 in Daet, a tremendous success. "There were lots of hitches no doubt, but somehow we were able to overcome them," he reports. The estimate of 150 procedures for the entire period of the mission was surpassed. A total of 196 procedures -- 46 major, and 104 minor, cases; 25 ophtha procedures; and 21 plastic surgeries 3 more cases that could no longer be attended due to time constraints, were referred to the Bicol Medical Center in Naga City. The ophtha procedures were done by volunteer doctors from Manila. All these were performed by a total of six surgeons headed by Dr. Tony Abiog. The surgical mission to Daet, C. Norte, Philippines was also supported by the Society of Philippine Surgeons in America.

Surgical Mission 2001 to C. Norte
Preparation for Surgical Mission 2001 is underway. Project director and BACNA VP, Erna Auro, is laying the broad plan for the mission. Supported by Maia Williams and Fechie Alarcon, VP on fund raising and administration, respectively, total coordination of different undertakings like the fund raising project spearheaded by Doris Palado, supplies and equipment acquisition by Marv Alarcon with Erna and Ivy Alarcon is in place. BACNA invites volunteers, especially those with OR experience. Please call Erna for mission related questions at (510)758-4771 or Manny Alarcon at (415) 431-6150. Equally, doctors who would like to know more about the upcoming mission may call Dr. Tony Abiog at (213) 977-2494 or (408) 354-3772.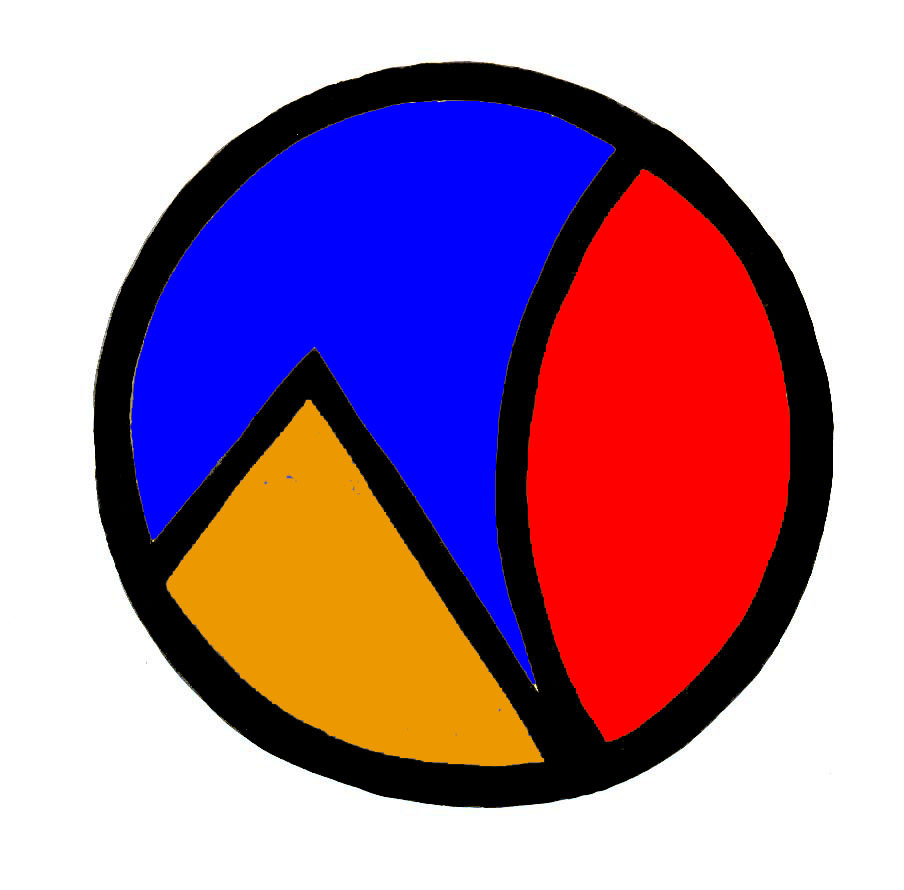 The Printout
1095 Market St., Ste. 312
San Francisco, CA. 94103
Tel.(415)431-6150
Fax (415)431-9208
Email:malarcon@theprintout. net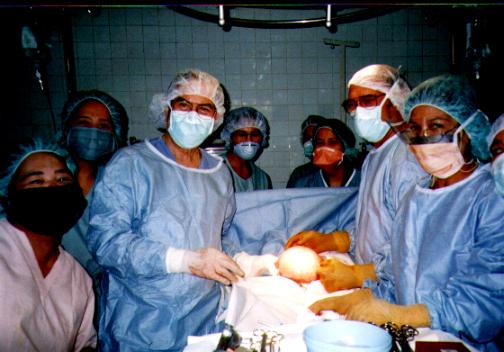 With nothing more than a sense of altruism, the surgical team went straight into the serious phase of the mission to Camarines Norte. They are seen here in one of the many surgeries that they did, all for free.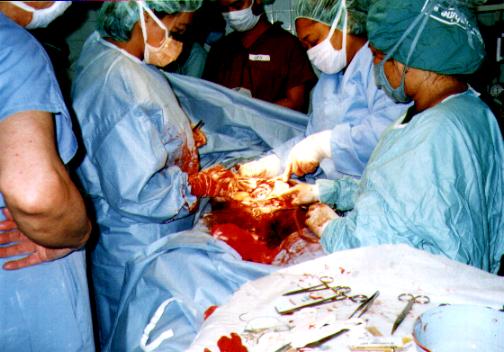 Bicolanos throughout the US celebrate the feast of Our Lady of Penafrancia.
San Francisco/Bay Area Penafrancia celebration
The 1999 SF/Bay Area Penafrancia Schedule
Penafrancia celebration in San Diego, Ca
Bicol Association of Tidewater, Viriginia, celebrates Penafrancia
Penafrancia Festival of Bicol USA - Houston Chapter

BNAA Holds 20th National Convention in Las Vegas!
In a press release to Mag-Iribahan Kita, the Bicolanos of Nevada, Inc. Las Vegas Chapter, announced the 20th BNAA Convention will be held at the Monte Carlo Resort & Casino (800-311-8999). It will be only a one-day affair, a departure from the usual 3-day gathering. The Bicolanos of Nevada, the host organization of the convention could be reached at (702)-438-3985.
Read BNAA's 20th Convention