OASNON USA OF NORTHERN CALIFORNIA

Sometime in 1973-74 Oasnon USA was conceived by a handful of families and friends from Oas, Albay, Philippines who during birthdays, fiestas, anniversaries, etc. have thought of forming themselves for fun and spirit of togetherness.


Hence, the same group of families and friends officially organized themselves and on May 10,1975, the organization was officially called "Oasnon USA" and blessed by Rev. Antonio R. Rey (deceased) in the induction of its ftrst set of officers in a chapel at the Naval Air Station, Alameda, California at approximately 7 pm. These were the first set of officers: Romy Zaragosa - President; Eutiquio Raposa (deceased) - Vice President; Chong Hidalgo - Sec/Treasurer; Ireneo Marbella -Auditor; Gene De Leon - Business Manager; Tinong Moreno & Rene Vargas - Sgt. at Arms; Fr. Antonio Rey and Dick Reodique -Advisers.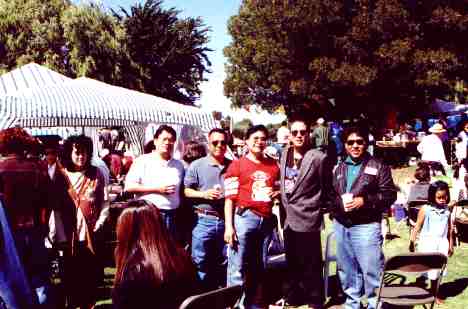 Familiar faces from OASNON USA in the company of guest in the yearly picnic of the Penafrancia fiesta

Oasnon USA was one of the "Big Five" Bicol organization who formally organized a unified Penafrancia Festivities in 1980. Between 1971 and 1980 Penafrancia celebration were mostly coordinated through the Bay Area Bicol Association (BABA) under the able leadership of its president, Mr. R:amon Belleza.


In 1980, it was agreed that the Penafrancia Fiesta be held annually in San Leandro to consist of a "Traslacion, novena at Our Lady of Good Counsel church, a solemn mass, a foot procession to the Marina and a fluvial parade, then followed by a dinner and dance a week or two later. It was also agreed that hosting the annual Penafrancia Fiesta be on a rotation basis by the attending associations as drawn by lots. The first set of host were as follows: 1981 - Iriga Association; 1982 - Bay Area Bicol Association; 1983 - Oasnon USA; 1984 - Bicol Circle (now Sorsogon Asso. USA); 1985 - Nabua Bay Area Club.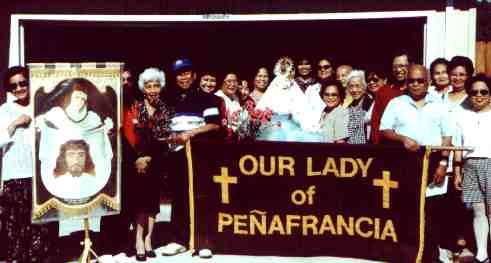 Ernie Beda Tena and Rolly Millena of OASNON USA are seen here carrying the Penafrancia banner.

Oasnon USA under the able leadership of its President, Tony Ronan was one of the ten signatories to the Articles of Incorporation for the Devotees of Our Lady Virgin of Penafrancia on October 23, 1990. The first to host the Penafrancia Fiesta after its formal incorporation was Oasnon USA under the able leadership of its president, Ernie Beda Tena.


Mission Statement: "That we, the Oasneos in the United States of America, in order to better preserve our close ties with and noble traditions of our hometown, an effective expression of our solidarity as sons and daughters of Oas, Albay, do hereby establish Oasnon USA of Northern California."

1996-1998 OFFICERS
President - Rolly Millena
Vice President - Vic Reburiano
Secretary - Cora Lorenzo
Treasurer - Romy Leonen
Auditor - Susan Renigen
Business Manager - Leni Leonen
Business Manager - Buddy Rastrullio
Press Relations Officer - Tito Lorenzo
Peace Officer - Nita Munda
Peace Officer - Leon Rea
Spiritual Adviser - Fr. Rene Ramoso




PAST PRESIDENTS
Romy Zaragoza - 1975-76
Eutiquio Raposa - 1976-78
Chong Hidalgo - 1978-79
Oscar Apostol - 1979-80
Tinong Moreno - 1980-81
Dr. Lilio Ribaya - 1981-82
Rose Quintana - 1982-84
Benny Ribaya - 1984-86
Manny Reburiano - 1986-88
Tony Ronan - 1988-90
Ernie Beda Tena - 1990-92
Rene Vargas - 1992-94
Vic Ronan - 1994-96

---



Thank you for dropping in.


(Since October 18, 1999)